紐西蘭 New zealand
Hundreds more dairy, meat and forestry workers allowed in under new border rules
2022-04-12
Hundreds more overseas dairy, meat and forestry workers will be able to come into New Zealand under new border exceptions.
Photo: RNZ / Nate McKinnon
The government has announced exceptions allowing 1580 experienced workers to come to New Zealand for jobs in the dairy, meat processing and forestry industries.
Agriculture Minister Damien O'Connor said the food and fibre sector was vital in the economic recovery from Covid-19.
"Food and fibre export revenue is expected to hit more than $50 billion by 30 June 2022, and it's vital the sector has the experienced workforce it needs to achieve this."
The previous border exception for 150 meat processors was "fully subscribed" and was being expanded by an extra 500 workers, he said.
There would be additional 500 migrant dairy worker places.
In forestry, up to 300 silviculture workers and 280 wood processors and manufacturers would be able to enter the country.
Meat industry and forestry workers had to be paid at least the median wage of $27 an hour and dairy workers at least $28 an hour.
O'Connor told Morning Report many employers already had connections with workers overseas and some workers would be going directly into jobs.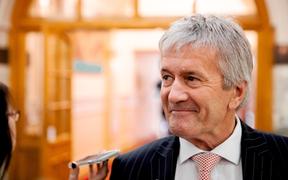 Agriculture Minister Damien O'Connor Photo: RNZ / Dom Thomas
There would be animal welfare problems if stock was kept on farms over winter rather than sent to meatworks, he said, with a shortage of feed in parts of the country.
O'Connor said the meat industry had given assurances they could staff quickly.
Under the border exception scheme, meat industry and forestry workers coming into the country had to be paid at least the median wage of $27 an hour, and dairy workers at least $28 an hour.
"We have put minimum wage rates on all these people coming in. We do believe if we can get the wages up we can get more New Zealanders into these jobs over time," O'Connor said.
Federated Farmers employment spokesperson Chris Lewis hoped workers would arrive in time for the spring dairy calving season.
"Calving starts in the Waikato in early July and as it goes down the country you know Southland they start in the first week of August, so it gradually starts all the way down," he said.
However, he said it may take workers from the Philippines up to six weeks to arrive in New Zealand and receive all the necessary medical checks and paperwork.
Lewis was concerned that administrative hold ups and bureaucracy would see some farmers unable to get workers on the ground in time for calving.
"If there are staff waiting to come here we we could get them in by that time but everyone has got to be agile and willing to make this happen super quick," he said.
Lewis said farmers should take up the opportunity rather than trying to struggle through workforce gaps.
"It's never going to plug every single gap but it's going to be very helpful."
The farming industry had put in hard work over the last two years to attract workers by improving living conditions, rosters and wages, he said.
Sorce from: Radio New Zealand. (April 12, 2022). Hundreds more dairy, meat and forestry workers allowed in under new border rules​. Radio New Zealand. https://www.rnz.co.nz/news/country/465123/hundreds-more-dairy-meat-and-forestry-workers-allowed-in-under-new-border-rules